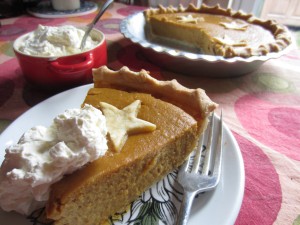 Pumpkin Pie has got to be the quintessential American autumn treat. As I am an American living in England I recreate this classic pie every year to remind me of home. Until they have tried it, most people I have met in the UK are not convinced they will enjoy a piece of pumpkin pie. When asked to describe pumpkin pie I refer to it as a spiced pumpkin flavoured custard tart. This generally warms people to the idea of it and after they have scoffed it, they are completely in love.
Most recipes in found in the states call for tins of pumpkin purée and evaporated milk, two things I would rather not use! This recipe calls for fresh pumpkin and replaces the evaporated milk with double cream. I grow a special type of pumpkin called New England Pie Pumpkin that is perfect for this recipe. This variety is sweeter and less watery than the type for carving. When people ask if I am going to carve my precious beauties, they are often glared at with offensive eyes and are then told the tale of pumpkin pie. When making the pastry, make a double batch, wrap in cling film and place in the freezer, always great to have some spare.
The recipe can be made with butternut squash, but really it should be pumpkin, hence the name.
Pumpkin Pie
Pastry
150g plain flour
75g cold butter
1 medium egg, beaten
Filling
500g pumpkin purée
150ml double cream
3 eggs, beaten
1 tsp cinnamon
1/2 tsp ginger
1/4 tsp nutmeg
1/4 tsp allspice
100g brown sugar
75g granulated sugar
To make the pastry, cut the butter into small pieces and place with the flour in a large bowl. Rub the butter into the flour gently using your fingertips. This can also be done with a food processor. Continue until the mixture resembles breadcrumbs, working quickly so the dough does not become too warm. Add the egg and stir together with a wooden spoon or rubber spatula to form a dough. Turn the dough onto a lightly floured surface and knead gently to fully combine, form a ball of dough. Wrap in cling film and let rest in the fridge for 30 minutes.
To make pumpkin purée, slice a pumpkin in half and scoop out the seeds. Preheat oven to 200C/180 Fan/Gas Mark 6. Place cut side down on a baking tray and bake for 30 minutes, or until a knife can easily be inserted. Remove from oven and let cool. Scrape pumpkin away from the skin and discard the skin. Purée pumpkin with a food processor or hand blender until smooth. Measure 600grams for the pie. The rest of the puree can be used in soups, made into a sauce, used in cookies, to fill pasta, muffins or simply warmed, seasoned and eaten as a side.
Preheat oven to 180C/160 Fan/Gas Mark 4. On a lightly floured counter, using a rolling pin, roll out pastry to fit a 9inch/23cm pie tin. Place the pastry in the pie tin and trim the edge or pinch together to form a crust. Blind bake using ceramic baking beads or dried beans on top of parchment paper for 10 minutes. Remove baking beans. If the edge of the pastry darkened during the blind baking process, cover with aluminum foil for final baking.
Combine pumpkin purée with cream, eggs, spices and sugars, this can be done in a food processor or in a bowl with a whisk. Gently combine as not to thicken the cream. Pour filling into blind baked pie crust. Bake for 45-50 minutes or until filling has just set. Cool on a baking rack. Serve warm with whipped cream.