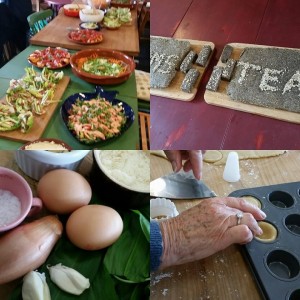 I often get asked about my job as Principal of the Cookery School so I thought I'd share what actually goes on here in a "typical" week.
It was always my aim to develop a Cookery School that was accessible to everyone and non elitist so "cooking for all" really seemed to encapsulate my vision from day one.
A colleague of mine, runs a creative business offering art and craft activities, now she calls herself 'eclectic' due to the diversity of art projects she runs – we've even collaborated on cook and craft projects, among others.
Eclectic is a word I have been thinking a lot about recently and I feel it is a good word to describe life running a cookery school with the vision of offering 'cooking for all'.
Eclectic (English Oxford Dictionary)
adjective
Deriving ideas, style, or taste from a broad and diverse range of sources.
("universities offering an eclectic mix of courses")
noun
A person who derives ideas, style, or taste from a broad and diverse range of sources.
When I started the Cookery School, I believed that the range of cooking classes would be the 'bread and butter' of the business. During 5 years of 'cooking for all' (our birthday is on June 11th) I can put my hands up and say how wrong I was! We work diversely for our customers from bread classes to creating an edible canvas for a corporate team day! Every week we seem to find ourselves either developing a new idea, a new menu, a new party idea, a new collaboration or a new class!
Last week has just bought back to me how eclectic the running of a cookery school can be, this is what it looked like:
Monday – Gloscol and Forest Sensory Group hire the cookery school to run classes for people with daily challenges such as Learning difficulties and loss of sight.
Tuesday – Creating a very special 18th Birthday cake (for my daughter) as well as taking calls, responding to email enquiries and having a meeting regarding cookery school accounts!
Wednesday – Planting herbs and edible flowers in our courtyard. Mainly curly leaf and flat leaf parsley but also tarragon, borage, chives and violas. I'm always getting asked about edible flowers and being a trained horticulturist it's an area I can get really carried away by.
Thursday – Teaching cookie making to a group of teenagers in Care that come to the Cookery School every week to learn skills, have fun and relax – this was then followed by prepping for a big day on Friday.
Friday – Hosting and teaching a 26 strong corporate team. The theme was 'Healthy Eating – avoiding refined foods'. Our remit was requested by the client whose team had suffered a selection of absences due to ill health since the beginning of the year. 20 dishes with no refined flour, no sugar, no gluten. Tasty and eclectic!
Saturday – Teaching a group of 8 all about the basics of Pastry making. My heart went out to one attendee whose wife had passed away earlier this year and he wanted to make pastry like his wife used. This we achieved by the end of the lesson, he was a very happy man and this made my weekend. Satisfaction by shortcrust.
Sunday – We took the Cookery School on the road to Cheltenham where we hosted a Chocolate Making party for 8 very excited 9 year old girls.
It seems every week here at the Cookery School we have something different on the menu. Yes we are certainly 'eclectic' and yes we are certainly diverse – I guess that is what comes with having the ethos of 'Cooking for All' at the heart of your business – and I wouldn't have it any other way!
Yvette, Principal of Harts Barn Cookery School