We accommodate many groups wanting a bespoke experience at the cookery school and can cater to your requirements throughout. Whether you are a group of friends, a family or couple, whether you are here on holiday, for work, as part of a tour or are local - our cookery school provides an excellent location for a variety of cookery-inspired activities.
We put on many parties, including those for hens & stags, birthdays, anniversaries, christenings and everything else, plus corporate events, away days, work outings, social groups, and more. You can choose from some of our packages or we can create a completely bespoke event for you. If it involves food, we can do it!
Here are just a few ideas:
Bespoke Cookery Experience – Pick a cuisine and let us do the rest. Catering or a class, serious or fun, any lesson can be taught! Cook and Dine is popular: enjoy lunch or dinner after your experience with all of your creations in our dining room with licensed bar or outside if the weather is good.


Cook & Craft – Combine a cooking experience with a craft activity, we have packages to suit all ages. Mosaic making, glass painting, bra painting, hat making, and more.


Kids & Teens – A wide range of activities for kids and teen activities great to keep them busy during half-term and school holidays – see our Stuff for Kids for more information.


Ready Steady Cook Challenge – Fancy a competitive cookery experience? Our challenges see teams or individuals given ingredients and a challenge to make tasty dishes (with our assistance). Work together or work against each other, the choice is yours!


Chocolate Making – Very popular with hen parties! Great fun, loads of spoon-licking, and lots of goodies to take home, perfect for making wedding favours or Christmas gifts (or just to eat yourselves).


Seasonal Foraging – Follow the seasons and discover what nature can provide for your plate from the humble nettle, the majestic chestnut tree, abundant wild garlic, woodland mushrooms or the bounty of the autumn hedgerow – a true taste of nature that can be incorporated into your everyday meals.


Outdoor Cooking – Make use of our bespoke outdoor cooking and dining area with wood-fired clay oven, fire pit and BBQ with beautiful views over the Forest of Dean hills. Gourmet BBQ or Cooking with Fire are popular with groups looking for an outdoor cooking experience.


Wine Tasting or Cocktail Making – Our licensed bar and bespoke dining area The Apple Barn is the ideal location to enjoy a spot of wine tasting (perhaps sampling our great range of local wines) or learn how to make cocktails.


Simple Survival Skills – Learn how to spend a day in the woods without a mobile phone! Learn to identify animal tracks, build a shelter, detect water, light a fire and cook outdoors. You will learn new skills and gain an unforgettable insight into nature and how to re-connect with your environment. Finish with a wonderful 'Taste of the Forest' meal in the cookery school.


Back to Basics – Discover bread making techniques of ancient times, artisan, simple, tasty. Be hands on, knead your dough and bake in a beautiful outdoor wood-fired oven.


Christmas Parties – We start taking bookings for Christmas parties over a year in advance – whether a corporate do or for a group of friends, we can put your group on a Christmas party to remember!


Staying in self-catering? Why not dine in and Hire A Chef for a night. Tapas, Indian, Moroccan, Chinese, Cocktails and Canapes… the choice is yours! The Forest of Dean is a great place to spend the holidays, with so much to see and do. At Harts Barn Cookery School we can cater to your requirements and provide a really special experience for your group, party or cooking desires!
Contact us for more details.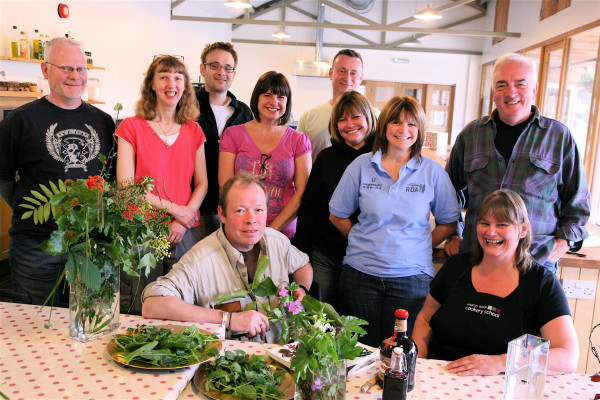 Hen & Stag Parties
FUN FOODIE FROLICS!
Cook, create, party and dine overlooking the beautiful Gloucestershire countryside in the Forest of Dean. We love putting on hen and stag parties at our cookery school and they are always fun events for all involved!
The options are endless but here are just some ideas for your special occasion:
Hen Parties
Create your perfect party – we can accommodate your own theme or choose from:
Profiterole Heaven
Cocktail, Cupcakes or Cupcake Decorating
Cheese and Wine Tasting
Chocolate or Sweet Making
Themed Cook and Dine – Italian, Thai, Spanish Tapas, Moroccan, British Classics, Taste of the Forest
Ready Steady Cook Challenge
Combine Cooking with a Craft: Decorate a Bra, Make a Mosaic Tile, Paint a Pot, Make a Fascinator
Pasta Making
Forage and Feast
Stag Parties
Cooking with Local Beer and Cider
Chilli Celebration – How Hot Can You Go?
Meat Lovers – Men and Meat
Exotic Meats – Go Beyond Wild Boar
Outdoor Cooking – Flames and Feast
Simple Survival Skills
Cook and Dine – Your Theme of Meal
Curry Night and Brewery Tour
Cooking parties usually last between 2 and 3 hours and we can offer packages to include tours to local breweries, vineyards and a range of outdoor or craft activities. Be immersed in everything the Forest of Dean has to offer – great food, drink and activities!
Prices for Hen and Stag Parties start at £35pp dependent on how much cooking is involved. To discuss your requirements please call 01452 831 719 or email: [email protected].
NB. We hosted our first 'sten' party in 2018 – a combined stag and hen do, and it was a wonderful experience for all involved!