I absolutely LOVE Christmas! For me, nothing beats a celebration where family and friends all gather together. I even love the chaos of it all! Having said that, many people do find the run up a little stressful with thinking of gifts to buy and being overloaded with pressure to produce an all singing and all dancing Christmas Dinner.
Here are a few ideas to help you on your way. It's a magical time and it can stay that way especially if you start preparations early and I mean…. early.
1. Get that oven cleaned.
It's the equivalent of de-cluttering in the kitchen – a task that no-one looks forward to and puts off and puts off however, once you've done it you feel AMAZING! Cooking and baking in a clean, sparkly oven is an absolute joy. Now there are lots of good products out there you can buy and even some really nifty things you can use that you have probably already got in your cupboard (vinegar and baking soda) but if the thought really is TOO much, book in the professionals. It's money well spent and the joy you get afterwards makes it worth it!
2. Make and FREEZE
Now this one is a real life saver and really does free you up on Christmas Day for that well needed sit down with a glass of bubbles. I'm a big fan of home-made over shop-bought but I do also realise that sometimes we don't all have the time to make our own cranberry sauce or stuffing. However, if you take my advice and start early why not make all your sauces in advance and pop them in the freezer – they will taste amazing, you will reap praise galore for going homemade over shop bought and feel all warm and fuzzy on the inside (I think it's called smug!).
In the past I have made and frozen all my sauces, stuffing balls and even pigs in blankets and the roast potatoes.
3. Pick a quick and easy Christmas Day Starter
I get asked about this one all the time. Let's face it, there is enough to do on Christmas Day without a really over-complicated starter to worry about. So, pick something that is easy to 'assemble' rather than 'cook'.
My easy starter of choice is Smoked Mackerel & Orange Salad
INGREDIENTS:
• 2 large oranges, 1 (225g) pack smoked mackerel fillets with peppercorns, skinned, 2 heads chicory, trimmed, 1 (85g) bag watercress, 1 tbsp olive oil, 2 tsp wholegrain mustard, 1 tsp clear honey, Dried cranberries to decorate
METHOD:
• Use a knife to remove the skin from the oranges, then cut between the white membranes to loosen the orange segments. Once all the segments have been removed, squeeze the remaining piece of orange over a bowl to remove the juice, set aside. Remove the skin from the mackerel and break the flesh into bite sized pieces. Break the chicory into leaves. Arrange the watercress, chicory, mackerel and orange segments in a large salad bowl. Whisk the reserved orange juice, oil, mustard and honey together with a little salt and freshly ground black pepper. Drizzle over the salad. Serve on individual plates and sprinkle with dried cranberries.
4. Bring in something for the Kids
Family gatherings are truly wonderful but they can go on and on and as much as we enjoy it – the little ones often don't appreciate the long sit at the table. One of the best ideas I've seen in action are table mats that the kids can colour and draw on. There are some lovely festive scenes you can buy or even make your own! If you have older children get them to make a centre piece or decorate and set the table.
5. Make your own treats and chocolates
Now, I know this is not one you'll want to be doing on Christmas Eve but, if you have time in advance, these are well worth the effort. They also make fantastic gifts – if you bear to give them away of course!
Here is my recipe for Gin & Tonic Truffles – these are amazing!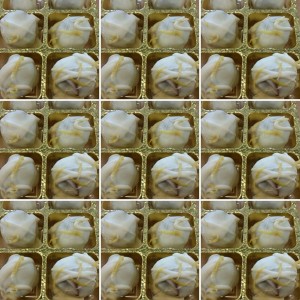 INGREDIENTS: 200g dark chocolate, 2 tbsp double cream, 2 tbsp gin, 1 tbsp tonic, ½ lime juice & zest, 50g unsalted butter
Preparation: Place glass bowl over a saucepan of water making sure the bowl is not touching the water. Place the chocolate and cream in the bowl and whisk together. Heat the water to simmering point and allow the chocolate mix to melt. Add the gin, tonic, lime juice, zest and butter to the mix and whisk. Re-fridgerate for up to 3hrs. Roll the mix into truffle size balls and place onto a tray lined with baking parchment. Place tray in the freezer for 30mins. Melt some white chocolate. Place each truffle into the white chocolate and then place back on the tray. Sprinkle some of the lime zest over the white chocolate and let set.
And here is a great recipe that Kids will really love and they make great tree decorations too!
STAINED GLASS WINDOW BISCUITS
INGREDIENTS:
For the biscuits: 75g plain flour, plus extra for dusting, ½ tsp bicarbonate of soda, A small pinch of salt, 1 tsp ground ginger, 25g butter, 50g soft brown sugar, ½ free-range egg, beaten, 1½ tbsp golden syrup, packet wrapped fruit-flavoured boiled sweets in different colours
To decorate: tube ready-made white icing, narrow ribbon
METHOD:
Preheat the oven to 180C/350F/Gas 4. For the biscuits, mix the flour, bicarbonate of soda, salt and ginger together in a bowl. Rub in the butter until the mixture resembles fine breadcrumbs, then stir in the sugar. In another bowl, beat together the egg and golden syrup, then pour this mixture into the flour mixture and mix to make a smooth dough, kneading lightly with your hands. Crush the sweets in their wrappers using a rolling pin. Roll the dough out on a floured work surface to about 0.5cm/¼in thick, then cut into shapes using a selection of Christmas-themed cookie cutters. Transfer the biscuits to baking sheets lined with baking paper. Cut out shapes in the centre of each biscuit, making sure you leave a good edge all around the biscuit. Completely fill the hole in each biscuit with crushed boiled sweets. Make a hole at the top of each biscuit using a drinking straw so that you will be able to thread a ribbon through it later. Bake the biscuits in the oven for 10-12 minutes, or until golden-brown. Remove the biscuits from the oven. While they're still warm, check that the holes are still there – if not, push a straw through again. Do not remove the biscuits from the baking tray until they have cooled because the boiled sweets need to harden. Once the sweets have hardened, gently lift the biscuits onto a wire rack with a palette knife to finish cooling.
If you like, you can decorate the biscuits with piped white icing. Thread ribbons through the holes in the biscuits to make loops for hanging from the tree.
All in all, it is just about preparation – please do let us know your top tips for Christmas prep!
Yvette.