Can you tell SoGlos a bit about yourself and where you're from?
I'm Yvette Farrell and I'm the owner of Harts Barn Cookery School in the Forest of Dean. I'm originally from London and came here about 24 years ago.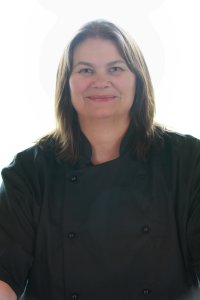 What brought you to Gloucestershire?
I was headhunted and moved because the office was based here. I spent many years driving all over the UK, but always enjoyed coming back to the Forest of Dean. I then had the opportunity to set up my own business and now every day I get to look out to marvellous views.
Had you been planning to set up a cookery school for a long time?
I'd been teaching for a long time and I actually had my own food catering business at festivals. One year I did 10 festivals and at the end of it, I just wanted a kitchen that stayed in one place!
How did you first get interested in food?
I grew up on a big country estate where, when it was the holidays, us children were sent up to the big kitchens where we were introduced to food from a very early age.
Is that what made you want to pursue a career in food?
I actually started off in horticulture. I was involved in it for a very long time, which gave me a good insight into how food is grown. I still kept my love of cooking and the two really did marry well together. Then I had the opportunity to go on to my other love of catering with my own food business.
Tell us about your culinary training
Lots of it has been self taught and I've learnt a lot from other people who I come across. I have been on several courses, but I'm not trained through a catering college, which I think has given me a creative freedom.
Was it very different to go from being on the road to having the cookery school?
It's a lot less stressful, because I don't have a kitchen to load up every time I go out! Here the kitchen's set up, I'm teaching lots of wonderful people, I've got lovely views and I've got my hands on incredible ingredients, so it's not like going to work sometimes!
What sort of things can people expect to learn at Harts Barn?
We have lots of different types of classes and what we try and teach are things that people can actually do in their own homes. So we don't have really fancy kitchen equipment because a lot of people don't have them at home. Sometimes it makes people laugh when I say 'here's a very essential piece of equipment in your kitchen' and I show them a fork!
The other two things that we like to introduce is the socialisation of food, so it's very important that people are eating, tasting and enjoying each other's company, and it's got to be affordable as well. Cooking is a life skill that everybody should know and it should be encouraged. Oh and fun, it's got to be lots of fun!
Can you give us a flavour of the type of courses you offer?
We do lots of bread classes, from the basics to sourdough, and lots of world cooking from Italian to Spanish to Moroccan to Mexican to Thai. We also do chocolate making, which is always very popular, as well as macaron classes and baking.
Do you have different tutors for the courses?
The classes are taught by people who specialise in different things and have made it their field of expertise. And, it's also people who are very good at teaching.
Which courses do you take?
I take a lot of the world food ones because I'm very interested in that type of cooking; also I'm the one that runs all the hen parties, corporate events and children's parties, which are always great fun.
Do you think it's important to get children involved in cooking at an early age?
Oh yes! I find that a lot of children are actually very good at cooking and very interested in it, so they're a captive audience and are always very engaging to teach.
Which skills are vital to have in your culinary arsenal?
I think it's very important to have good knife skills, so you are safe in the kitchen and I think it's very good for everyone to be able to make bread because it's such a basic thing to do.
What are good recipes for complete novices to start with?
Bread is one of them and then your basic meals, like cottage pie and chilli con carne, which are very easy and tasty to make. I have come across some people who are in their forties who have never peeled potatoes before which is unbelievable. It's the type of people who will buy ready peeled potatoes or frozen roasties, but it's just so much cheaper and quicker to do your own!
How will Harts Barn be involved in October's Forest Showcase Food & Drink Festival?
We've supported the Showcase for many years now because we believe it's a good festival that supports what goes on here in the Forest.
We do demos for them, we come up with ideas, and we always run something for children – this year we're going to be making chocolate lollies together.
How would you describe the event to those who haven't been?
If you're not that into food still come along because it's so diverse. There are craft stalls, different genres of live music and community choirs, stalls and tents doing talks about the environment, beer, wine and cider producers from the local area and lots of activities for children.
Do you think it's important to throw the spotlight on local producers?
Definitely, the more that we can eat locally, the better. Here in the Forest of Dean we do have a lot of very good producers, just one case in hand is Smart's Farm who makes Double Gloucester cheese. You can go to the farm and see where the milk comes from, watch the cheese being made and then buy some to take home with you.
Do you encourage using local producers at the cookery school?
I'm always telling people about local producers. Just down the road from us we've got a local fruit wine producer called VQ Country Wines and the owner Debbi Attrill walks the hedgerows, picking fruit which she then turns to wine.
Do you grow anything yourself?
I grow a lot of herbs and I've got a big vegetable garden at home where I grow tomatoes, leeks, runner beans and all sorts of things like that. One of my favourites is a coriander sandwich, so I grow lots of coriander to pick fresh to put in my bread!
Are there any chefs you particularly admire?
I love Nigel Slater, he's one of my heroes, and I was very lucky last year to work with him on a shoot for his new programme. It was a really lovely experience to work alongside somebody who I've admired for a long time. I like his recipes because they highlight the simplicity of the ingredients he uses. I do admire Jamie Oliver as well because he does try to re-educated people on the best way of doing things and he's got so much enthusiasm and energy.
What's been your career highlight?
Working with Nigel Slater is definitely one of my career highlights. One of my other highlights is seeing people come here who are nervous about cooking and then when they leave they are very enthused, so I feel as though I've achieved something.
Any Gloucestershire restaurants you rate?
The Tudor Farmhouse, which is based in the Forest of Dean, uses amazing local produce, and there's The Crown at Whitebook which uses a lot of foraged ingredients from the Forest.
What do you like to do when you're not in the kitchen?
I love walking my dogs out in the countryside and I've got certain hedgerows that I pinpoint that have got produce in them, such as Mirabelle plums, sloes and nuts. In fact, my demo at the Showcase this year is about the nuts of the Forest of Dean.
And finally, what would be your last meal and why?
Lamb roast dinner. Yum!