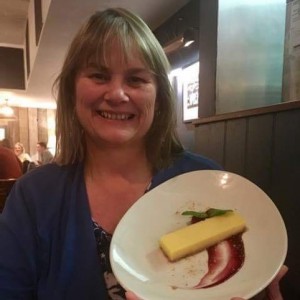 Yvette Farrell
It's always this time of year when everything starts to 'pinch'.
Blue Monday is said to be the most depressing day of the year. From doing a quick google it is apparently on that particular day because of a calculation that looks at factors like weather and debt levels. Oh and it was invented by a Holiday company apparently too!
Now here's the thing – you have a choice – you can either curl up under your duvet and sleep through it or you choose to ignore it and purposefully do something positive and maybe even fun! You can smile at a stranger, get out for some exercise or even bake yourself something deliciously healthy. Or you can do all 3! Being kind to yourself (and others) is like medicine – self-care if you like.Bring colour in to your house – try filling a big fruitbowl full of colourful fruit and just see how good it makes you feel seeing such vibrancy from nature's larder. And let's face it, you are far more likely to eat a piece of fruit if it looks enticing and on is on display within your eye-line.
Having some fun is important too – yes I know lots of people are doing 'dry January' but that's even more reason to have fun isn't it? Invite those friends over for lunch you haven't got around to seeing over Christmas and present them with a wholesome, healthy meal that will blow their minds with flavour and show them meals don't have to be naughty to be nice!
Here are some amazing recipes from our very own Chef Erin to help you out. First up is MUSHROOM STROGANOFF WITH BROCCOLI RICE – just double or treble the quantities as needed if you are entertaining. Now, don't be put off by the lack of meat in this dish – it is delicious – I tried and tested it on the most dedicated of carnivores I know, and they wanted seconds! The broccoli rice makes a great talking point too!
MUSHROOM STROGANOFF WITH BROCCOLI RICE serves 2-3
Ingredients: 1 tbsp oil or butter, 2 large oval shallots, thinly sliced, 2 cloves garlic, finely chopped, 600g mushrooms, a mix is nice brown, white, shittake, portabella,2 tsp paprika, 200ml vegetable stock, 1 tsp tamari or soy sauce, Pinch ground nutmeg, Pinch ground cinnamon, 150ml sour cream or creme fraiche , half fat is fine if you prefer, ground pepper, chopped parsley
Method: 1. Heat oil in frying pan and cook shallots 2-3 minutes. 2. Add garlic and mushrooms and cook for 5-8 minutes, adding a splash of water if they start to stick. 3. Stir in paprika, stock, tamari, nutmeg and cinnamon. Simmer for 10 minutes until liquid is reduces to half. 4. Lower heat and mix in sour cream, and let heat. Season to taste with salt and pepper. Serve over broccoli rice and sprinkle with parsley.
BROCCOLI RICE
Ingredients: 1 large head of broccoli, 1 onion, 1 pinch sea salt, ½ lemon, juice only
Method:1. Gently fry the onion in a little olive or coconut oil. In the meantime finely chop the broccoli using a food processor or a box grater. 2. Add the chopped broccoli to the softened onion, fry for 3 – 4 minutes before adding the salt and lime. Continue to fry for a further 2 – 3 minutes. Serve immediately!
Do try this recipe it really is simple and delicious and if the kids turn around and yell "can't we have pizza?" I have a recipe you can try out on them too! It really is fun to challenge pre-conceptions of what certain dishes 'should' look and taste like. And this is just one way you can bring a little more fun in to January without compromising on all your New Year healthy resolutions.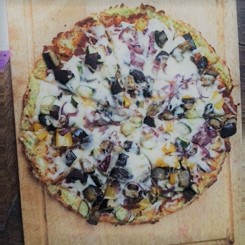 CAULIFLOWER PIZZA makes 2 medium or 1 large pizza
Ingredients: 1 large cauliflower head, trimmed and cut into florets, 2 eggs, 50g mozzarella cheese, finely grated, 50g ground almonds, 1 tsp oregano, 1/2 tsp salt, 4 tbsp sun dried tomato puree, pesto or tomato puree, roasted vegetables for topping: courgette, red pepper, aubergine, onion, mushroom, grated mozzarella, fresh basil
Method:1. Preheat oven to 180C/160C Fan/ Gas 4. 2. Whiz the cauliflower in a food processor until very fine, then tip it into a large, dry frying pan. Cook for 10 minutes, stirring occasionally, for the moisture to evaporate. Remove cauliflower from pan and place in a clean tea towel. Let cool then wrap the cauliflower in tea towel and squeeze to remove excess water. 3. Place cauliflower in a large bowl and mix in the eggs, cheese, ground almonds, oregano and salt. 4. Line a large baking tray with greased non-stick baking paper (be sure to grease!) and divide the mixture making two medium sized bases − use the tips of your fingers or a spoon to shape them. Bake for 15-20 minutes, after which the base should have solidified into one moveable piece and have gone golden. 5. Remove from the oven and with a palette knife or spatula release from the paper. Flip over and cook both again for another 10 minutes. When both sides are golden, remove from the oven and spread them with tomato purée between each and then top with the vegetables and mozzarella. 6. Return to the oven on a baking tray lined with non-stick baking paper and bake for 80-10 minutes. Serve immediately in slices. Other toppings can be used, just be sure that they are very quick cooking or already cooked.
So I do hope I have inspired you enough not to hide under your duvet on Blue Monday and to have some FUN this January – even if it is serving up the kids a cauliflower pizza as a surprise!
Keep smiling! Yvette
These 3 recipes are all covered in our LOW CARB, HIGH VEG class.
If you want a little more inspiration for healthy dishes to cook we are running a special Blue Monday Deal giving you 20% off this and other healthy eating classes run by Chef Erin if you book before the end of January.
20% off Low Carb, High Veg Click HERE
20% off Deliciously Vegan, Click HERE
20% off Gluten Free Baking Click HERE