A basic bread recipe, suitable for farmhouse loaf
By : Andy Robertson | Difficulty : Intermediate
Ingredients:
• 500g strong flour , plus extra for dusting
• 7g fast-action dried yeast or 15g of fresh yeast
• 1 tsp salt
• up to 350ml warm water (based on ambient temperature)
• a little sunflower oil , for greasing
• Optional – 20g Skimmed Milk Power
• Optional – 20g White fat.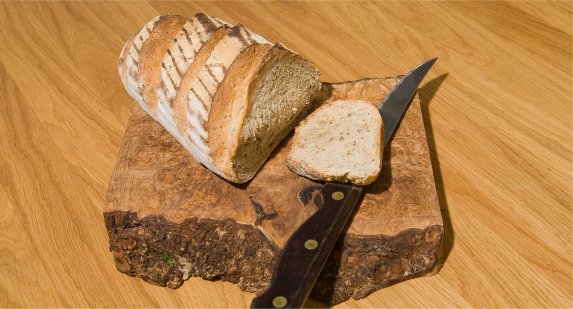 Method:
1. Make the dough by tipping the approximately 100g of the flour, the yeast and most of the water into a bowl and whisk together to make a batter. Mix the all the remaining flour and salt (milk powder) on the work surface (rub in white fat if used) and make a well in the middle. Pour in the batter mixture into the centre of the well and use your fingers to mix the flour and batter together until combined to a slightly wet, workable dough – add a more water if necessary. Knead for at least 10mins until smooth and elastic. This can also be done using a tabletop mixer with a dough hook. Place the dough in a clean oiled bowl, cover with oiled cling film and leave to rise until doubled in size.
2. Heat oven to 220C/fan 200C/gas 7. Knock back the dough by tipping it onto a floured surface and pushing the air out. Mould the dough into a "sausage" shape that will fit a 900g loaf tin and place in the lightly greased tin. Cover with a clean tea towel and leave to prove for approximately 30mins. Slash the top with a sharp knife optional. Bake the bread for 15mins, then reduce the heat to 190C/fan 170C/gas 5 and continue to bake for 20/30mins until the loaf sounds hollow when removed from the tin and tapped on the base. Leave the bread on a wire rack to cool completely.