A light and refreshing pudding with a gingery bite.
By : Harts Barn Cookery School | Difficulty : Intermediate
Ingredients:
For the pudding
• 85g butter, plus extra for greasing
• 85g soft brown sugar
• 85g self-raising flour
• 1tbsp baking powder
• 2 free-range eggs
• 2tbsp milk
• 2.5cm/1in piece root ginger, peeled and grated
• ½ mango, peeled, stone removed, chopped
For the icing
• 2tbsp icing sugar, plus extra to dust
• 2tbsp water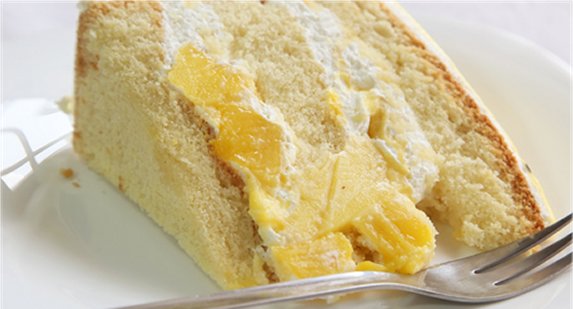 Method:
• Preheat the oven to 200C/400F/Gas 6
• For the pudding, place the butter and sugar into a food processor and blend until smooth
• Add the flour, baking powder, eggs, milk and ginger and blend until well combined
• Grease a 25cm/10in cake tin or flan tin with butter and place onto a baking sheet. Pour the pudding mixture into the tin and top with mango pieces, pressing them down slightly into the mixture.
• Transfer to the oven and bake for 12-15minutes, or until risen and springy to the touch. Remove from the oven and allow to cool for a few minutes, then remove from the tin. Place onto a serving plate.
• For the icing, place the icing sugar and water into a small bowl and mix well until smooth.
• To serve, drizzle the icing over the pudding and dust with extra icing sugar.