A classically simple dish using foraged ingredients.
By : Harts Barn Cookery School | Difficulty : Easy
Ingredients:
• 250g floury potatoes.
• 1 egg
• 100g plain flour
• 75g wild garlic, finely chopped
• Polenta, for dusting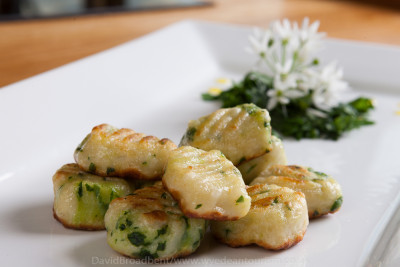 METHOD:
• Bring some water to the boil in a large saucepan, add the unpeeled potatoes and boil until cooked through. It's really important you don't peel your potatoes and that you boil them with the skin on.
• Carefully drain the potatoes and peel the skin off while they're still hot – use a tea towel to help hold them.
• Mash the potatoes straight away while hot, then season with a pinch of salt. Try to make your potatoes as smooth as possible – use a potato ricer if you have one.
• Add the egg and plain flour to the mash and mix to form a malleable dough. If the dough is too soft add some extra flour, or if the dough seems too stiff add the second egg.
• Taste the dough and add more salt if necessary.
• Mix the finely chopped wild garlic into the dough and knead through till it's evenly distributed.
• If the batch of dough seem too moist at any point just add more flour until the dough is firm and not too sticky.
Shaping the gnocchi
• Dust your work surface with flour and roll your dough ball into a long cigars or sausage shape – the smaller the better. Take a knife and cut the dough into small, even squares approx. 1cm.
• Dust some trays with polenta and place your finished gnocchi onto them. Try not to overcrowd the trays so they don't stick together. You can either freeze them on the trays or you can cook them from fresh.
Cooking the gnocchi
• Place a saucepan of water on the heat, add a pinch of sea salt leave to heat.
• Pop the gnocchi into the boiling water and cook until they start floating to the top (when they float it means they are cooked – approximately 1-2 minutes).
• Scoop them out of the water with a slotted spoon and place onto a plate to drain.
• Melt a tablespoon of unsalted butter in a frying pan and add the gnocchi. Fry until golden brown.
• Remove the gnocchi and in the remaining butter add some wild garlic and wilt down.
• Serve with the gnocchi.