GYOZA - Japanese dumplings, also known as Pot Stickers.
By : Erin Baker for Harts Barn CookerySchool | Difficulty : Advanced
GLUTEN FREE GYOZA WRAPPERS
Ingredients:
60g rice flour
120g glutinous rice flour
1/2 tsp xanthan gum
125ml of boiling water
1 tbsp of sunflower oil
DIPPING SAUCE
3 tbsp tamari (gluten free soy sauce)
1 tsp toasted sesame oil
1 tbsp rice vinegar
50g ginger, finely grated
1 spring onion, very finely sliced
FILLING
1 tbsp oil (rapeseed, sunflower, vegetable)
2 carrots, peeled and grated
1/2 small Chinese cabbage, finely chopped
100g shiitake or brown mushrooms, thinly sliced
3 spring onions, sliced
2 cloves garlic, minced
1 inch ginger, finely grated
1 tsp toasted sesame oil
1 tbsp tamari (gluten free soy sauce)
light oil (rapeseed, sunflower, vegetable) for frying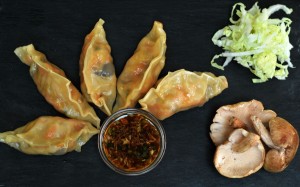 To make the gyoza wrappers,
Mix together the 2 flours, salt and xanthan gum in a large bowl.
Add the water and oil and mix vigorously until the mixture comes together.
Cover in cling film, leave to cool to handling temperature then knead until a ball of dough forms. If it is too sticky, add more rice flour.
Break the dough into pieces about the size of a hazelnut and roll into rounds about 3 inches in diameter.
Heat a frying pan and add oil; add the carrot, cabbage and mushroom, cook for about 5 minutes, moving around the pan regularly.
Add spring onions, garlic, ginger sesame oil and tamari. Cook for another couple of minutes. Remove from heat and let cool.
Place a heaping teaspoon of filling in the middle of the wrapper.
Fold the gyoza wrapper over the filling and pinch the edges to seal it shut, then make a series of folds to create pleats.
Not very traditional, but a fork works well to crimp the edges together.
To make the sauce:
Grate the ginger with the small grating side of a cheese grater (not the zest side).
Gather all of the ginger and squeeze into bowl. Add remaining ingredients and mix well.
Heat oil in a large frying pan or wok. When oil is ready, carefully add the dumplings and cook on high heat until golden brown (about 1 minute).
Without turning the dumplings over, add 75 ml of water and cover. Reduce heat to low and steam dumplings until water is gone. The gyoza will stick a little, but easily release, hence the name pot stickers.
Serve with dipping sauce.
A little note from Erin:
Gluten free gyoza dough took me about 3 attempts of failure before success. Don't give up if you struggle at first – the result is a lovely workable pastry that results in a delicious wrapper for these Japanese favourites. Also try to roll the pastry as thin as you can for best results.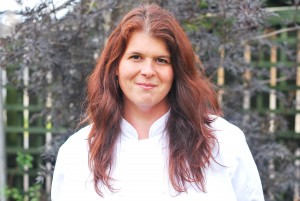 Erin Baker runs our Free From and most of our Vegetarian Classes
See our Classes page