Light, fresh and delicious, try this super simple recipe that's perfect for hot summer days and great for sharing!
By : Harts Barn Cookery School | Difficulty : Beginner
Ingredients:
• 3 large pears
• Handful of rocket salad
• 1 tbsp Italian extra virgin olive oil
• Salt, and freshly ground black pepper
• 200g Parmesan cheese
• Sprinkle of walnuts (if required)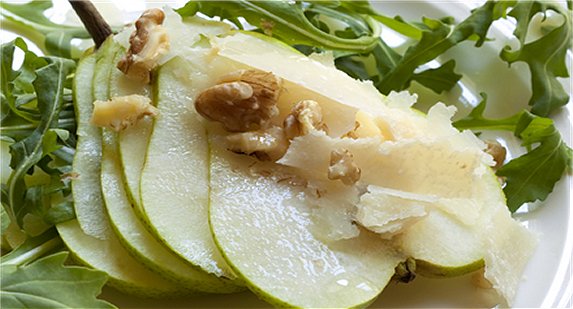 Method:
• In a small bowl, dress the rocket salad with extra virgin olive oil, and then season to taste with salt and pepper.
• Place a handful of the salad on to the centre of a large flat plate.
• Peel the pears and slice them very finely.
• Arrange them on the plate overlapping each other.
• Shave the Parmesan on top, add walnuts if required and serve immediately.