A creamy dessert with a fruity topping
By : Harts Barn Cookery School| Difficulty : Beginner
Ingredients:
For the Pears: 4 pears, about 300ml grape juice, 1 cinnamon stick, a strip of lemon rind
For the Creamed Rice: 500ml semi-skimmed milk, 1 vanilla pod, 150g short-grain white rice, 1tbsp Honey, 2tbsp single cream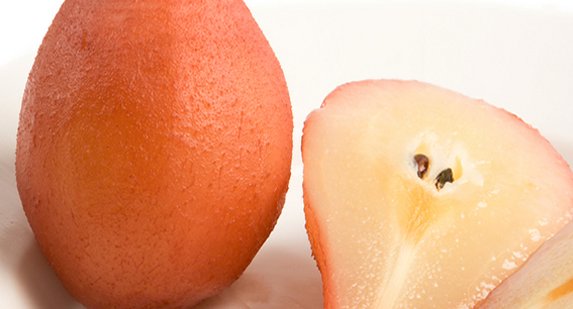 Method:
• Peel the pears and place in a saucepan small enough to fit them snugly and cover with the grape juice.
• Stir in the honey. Break the cinnamon stick and add it to the pan with the lemon rind.
• Bring to the boil over a high heat, then lower the heat, cover and simmer gently for 20mins, turning the pears occasionally to ensure they cook evenly.
• Meanwhile, in a separate saucepan, bring the milk and vanilla pod to scalding point, making sure it does not boil over.
• Remove the vanilla pod from the milk and stir in the rice and honey.
• Lower the heat right down and cook, stirring occasionally, for 15minutes.
• Meanwhile, split the vanilla pod open with a small sharp knife and scrap the vanilla seeds into the milk. Stir to distribute evenly.
• When the pears are tender, remove them from the heat. When the rice is cooked and the mixture is thick, remove it from the heat and stir in the cream if using.
• Divide the rice amongst serving bowls and top with a poached pear. Spoon a little of the poaching liquid over the pear.